Dr. Andrew Thayer DVM
Dr. Andrew Thayer is committed to providing excellence in veterinary care, and stands out as a leading veterinarian in Hartsdale. The doctor uses the latest in veterinary techniques to provide your pets with exceptional care. Read more about Dr. Andrew Thayer below.
Dr. Andrew Thayer, DVM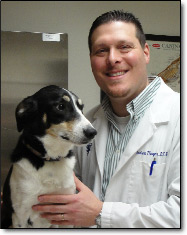 Dr. Andrew Thayer, Veterinarian and owner of Hartsdale Veterinary Hospital, received his B.S. from Syracuse University and his Doctorate in Veterinary Medicine from Louisiana State University in 1999.
Dr. Thayer's professional interests include internal medicine, endocrinology, dentistry, dermatology and surgery. Active in several veterinary organizations, he is a member of the Westchester-Rockland Veterinary Medical Association, New York State Veterinary Medical Association, American Animal Hospital Association, American Association of Feline Practitioners and American Veterinary Medical Association.
Dr. Thayer is married. He and wife have two children as well as numerous four-legged children. These pets include two dogs, Max and Delilah, five cats, Loosey, Goldie, Otis, Henry and Garrie as well as a bearded dragon lizard named Juan Carlos. Dr. Thayer enjoys the sport of Brazilian Jiu Jitsu. He and his wife's hobbies also include billiards, cooking, photography, and spending time with family